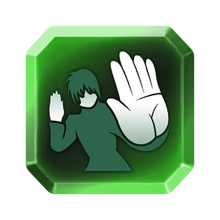 Warp Strike is Lie Ren's Ultimate ability in RWBY: Grimm Eclipse. When used, he dashes around to nearby enemies, hitting them with aura strikes. Upgrading this ability increases the amount of strikes and the damage.
Skill Tiers
Edit
Tier 1 - Warp Strike Edit
"Ren quickly dashes from enemy to enemy performing palm strikes along the way." 
Ren dashes within a radius, hitting up to 5 times for 200 damage each strike.
Tier 2 - Improved Warp Strike Edit
"Ren hits more enemies with his Warp strike." 
Ren now hits up to 7 times for 300 damage each strike.
Costs 2 to upgrade.
Tier 3 - Furious Warp Strike/Warp Strike Mastery Edit
"The radius of enemies hit with Ren's Warp Strike is increased." 
Ren now hits up to 10 times for 400 damage each strike, over an increased radius.
Costs 2 to upgrade.
To unlock, defeat 300 enemies using Ren's ultimate.
Community content is available under
CC-BY-SA
unless otherwise noted.