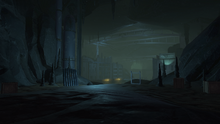 The fourth chapter of the Campaign is called "Below the Surface" and is set in the underground of Mountain Glenn. It involves the players looking for a way out of the part of the underground they have fallen into.
There are 4 artifacts that can be found in this chapter.
 Encounters
Numbers are taken from Single Player, Normal difficulty.
Transcript
Trivia
Gallery