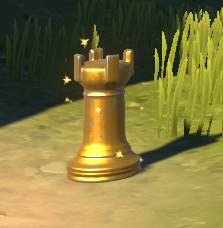 Artifacts are objects found throughout RWBY: Grimm Eclipse that can be collected for Professor Oobleck. They are worth 100 XP apiece and take the form of sparkling chess pieces. A soft chiming sound is heard when near an artifact.
Locations
Chapter 1: Boots on the Ground
Chapter 2: Technical Difficulties
Chapter 3: The Collapse
Chapter 4: Below the Surface
Chapter 5: Right on Track
Chapter 6: End of the Line
Chapter 7: The Island of Dr. Merlot
Chapter 8: A Grimm Discovery
Chapter 9: The Grand Tour
Chapter 10: Final Exam
Quotes
Ruby
"Ooooh, neat."
"Hey, a souvenir!"
"Look what I found!"
"Finders keepers!"
Weiss
"This looks interesting."
"What do we have here?"
"Another one for my collection."
"I'll take that."
Blake
"Let's take this back to Beacon."
"Huh, look at this."
"What is this thing?"
"This is coming with us."
Yang
"Helloooo."
"Check this out!"
"Gotcha!"
"Found a thingy!"
Jaune
"Uhh, somebody drop this?"
"I always wanted one of these."
"Hey, this looks cool."
"What do we have here."
Nora
"OoooOOOO shiny."
"I'm queen of the castle!"
"Oh! I bet Ren would like this!"
"Got another one!"
Pyrrha
"This belongs back at Beacon."
"I'm grabbing this for safe keeping."
"I'll add this to the collection."
"This is coming with us. "
Ren
"I should bring this back for further study."
"One more for the collection."
"Why hello, little treasure."
"What do we have here?"
Community content is available under
CC-BY-SA
unless otherwise noted.