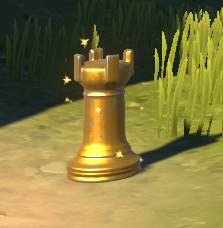 Artifacts are objects found throughout RWBY: Grimm Eclipse that can be collected for Professor Oobleck. They are worth 100 XP apiece and take the form of sparkling chess pieces. A soft chiming sound is heard when near an artifact.
Locations
Chapter 1: Boots on the Ground
Chapter 2: Technical Difficulties
Chapter 3: The Collapse
Chapter 4: Below the Surface
Chapter 5: Right on Track
Chapter 6: End of the Line
Chapter 7: The Island of Dr. Merlot
Chapter 8: A Grimm Discovery
Chapter 9: The Grand Tour
Chapter 10: Final Exam
Quotes
Ruby
Weiss
Blake
Yang
Jaune
Nora
Pyrrha
Ren
Community content is available under
CC-BY-SA
unless otherwise noted.